Especially for People with Parkinson's Disease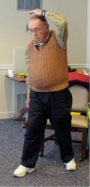 If you have Parkinson's Disease, knowledge is power.
The more you know about Parkinson's the better you can participate in the treatment of this disorder with your doctor, caregiver and physical therapist. There are primary and secondary symptoms that may present themselves with this disease, but the important thing to remember is that not everyone has similar symptoms. It has been well stated that when you have seen one Parkinson's patient, you have seen one Parkinson's patient. Meaning that treatments for this disease are specific to the individual being treated and the array of symptoms presented.
It is very important to remember that no matter the number or type of symptoms you develop, exercise is an important adjunct treatment for the symptoms of the disease. Those who exercise have more favorable outcomes than those patients who remain inactive.
I want to express my appreciation and thanks for all of the help that Bob Seymour and the rest of your staff have given me. Bob's commitment and expertise has been tremendously helpful to me in coping with Parkinson's. I can say without hesitation that I would not be as well off as I am without Bob's guidance, encouragement and enthusiasm. Bob has developed a program that is tailored for me and for Parkinson's. It hasn't always been easy, but Bob has made the experience both rewarding and fun. You are lucky to have Bob on your staff, and I am lucky to have found Bob.
With thanks and admiration,
~John Vine
Bob – We so enjoyed spending our day with you. Beyond all the great stuff you taught us, it was a delight to see how much you love what you do and how deeply you care about your clients. Thank you for sharing your skills and your joy.
~Jennifer Russell, M.S., OTR/L
Wellness Instructor
Wellness Center at Herr's Ridge
Wellspan – Gettysburg
Bob, Thank you again for letting us spend the day with you. We learned a lot and it made us feel we are on the right track. We look forward to you visiting us one day.
~Paula Chaplin
Wellness & Community Relations Coordinator Fitness Trainer
Herr's Ridge Wellness Center
Gettysburg, PA
Bob, I am so happy that friends recommended you to us. The therapy you have given me has mad an enormous difference all over in my life. My physical energy has really improved. Using a walker, sitting down and getting up is getting easier. My wife says we should clone you and take you with us to Florida.
Thank you for your help.
~K. Peter Wagner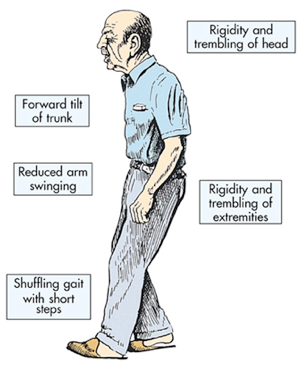 If you have any of these symptoms, we can help:
Gait Disorders (including reduced arm swing, short-stride, shuffling gait, and episodes of freezing)
Postural Lean
Tremor
Rigidity
Stiffness
Bradykinesia (slow movements)
Non-motor Symptoms (micrographia, constipation, masking, swallowing difficulties, etc.)
Parkinson's Disease Treatment Services Offered:
Personal evaluation of your Parkinson's symptoms and musculoskeletal system.
Science-based interventions and exercises using compensatory techniques (e.g. visual/auditory cues, focus drills and tasks).
Specialized equipment for neurological disorders such as the U-Step Walker and Laser Cane which are outfitted with laser beam technology.
Individualized exercise programs and techniques which target symptoms.
Parkinson's disease information.
Our goal is to treat your symptoms and the total person with gait training, postural exercises, stretching, strengthening, cardiovascular, and balance exercise programs.
Bob treats clients in a safe and clinical setting as well as in the comfort of your own home. Stop struggling, give us a call – we're here to help.
For more information and educational material about Parkinson's Disease check out the links listed below:
Glossary:
Movement Disorders Clinics:
Management of Parkinson's:
Self Help Forms (evaluate your physician, monitor symptoms and medications:
Non-motor Symptoms Information:
Research and Exercise:
Recommended Readings:
The Parkinson's Disease Treatment Book: Partnering with Your Doctor to Get the Most from Your Medications by J. Eric Ahlskog, M.D., Mayo Clinic Parkinson Specialist, Oxford University Press © 2005.

Easy to understand guidance on the right drugs and doses to control tremors, stiffness and slowness. Effective diet and nutrition strategies. Advice on treating anxiety, depression, sleep problems, dizziness, and sexual dysfunction.

Delay the Disease: Exercise and Parkinson's Disease by David Zid, Columbus Health Works Production © 2007 Second Printing.

This book is a fitness program designed to empower people with Parkinson's Disease (PD) by optimizing their physical function and helping to delay the progression of symptoms.

How to Tame Parkinson's By Keeping Fit: My Total Commitment + The Right Trainer by David H. Anderson, Authorhouse © 2005.

If you or someone you know is diagnosed with Parkinson's, how do you cope with the denial, anger and fear, as well as the symptoms? I haven't discovered a cure for Parkinson's, but I have found a way to tame many of its debilitating symptoms and return to a more normal existence. I've written this book, hoping others might benefit from my positive experiences with the right personal trainer, and use it as a guide to discover the simple routines that helped restore my balance, posture, walk and, most importantly, my usefulness and sense of humor. Restoring a positive mental attitude has been key. I'll show you how I accomplished it. It's as easy as Your Total Commitment + The Right Personal Trainer.