Especially For Women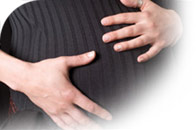 If you have stress/urge incontinence, pelvic pain and dysfunction, and/or other pregnancy related issues, there is hope. There are new, innovative ways to train the musculature in that area to function normally, dramatically improving or eliminating symptoms. Join the growing number of people who have succeeded in getting their lives back. Our program was designed by a woman for women.
"…I have done these exercises ever since, and I can honestly say that my quality of life has improved 100%. The prolapse is still evident, but I am no longer in misery when I cough, sneeze, or strain in any way. In other words, it is very manageable, and I am only uncomfortable on rare occasions… Yes, it has been THAT good, and I highly recommend it… IT WORKS! Thank you, thank you." R.B.
(Read full testimonial)
If you have any of these conditions, we can help:
Back Pain
Urinary Incontinence and Urgency
Prenatal and Postpartum Pain
Rectus diastasis

Pelvic Pain (vaginismus, dyspareunia, vulvodynia, interstitial cystitis)
Osteoporosis
Constipation
Rectal Incontinence
Rectal Pain
Women's Health Physical Therapy Services Offered:
Personal evaluation of your musculoskeletal system.
All treatments in a private, confidential setting.
Manual therapy techniques (myofascial, muscle energy and other neuromuscular techniques)
Pelvic floor muscle re-education through biofeedback
Individualized exercise programs
Educational information
Postpartum education and exercise
We treat you in a setting that is private and confidential. Stop struggling, give us a call – we're here to help.